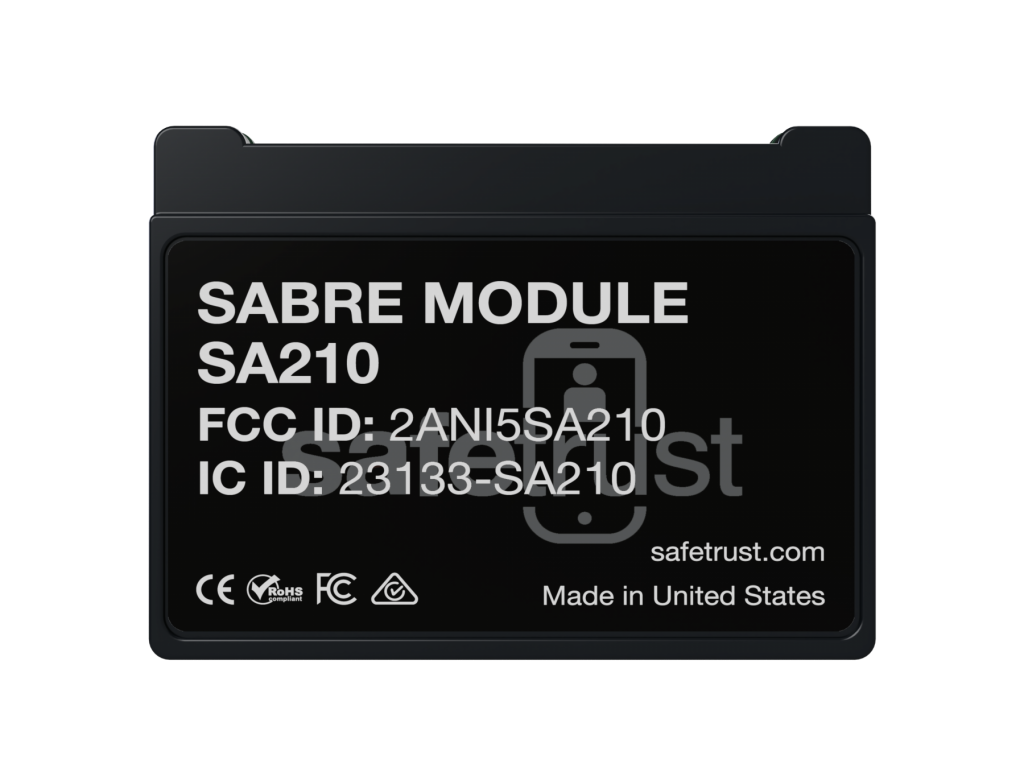 Supercharge your installed readers in seconds
The SABRE MODULETM is a low-cost, 30-second upgrade that brings fast touchless mobile credentials, supplier-neutral MIFARE® DESFire®, WiFi, and OSDP features to HID iCLASS SE and multiCLASS SE readers. With a simple plug-in installation that requires no re-wiring, the SABRE MODULE delivers enterprise-grade security with leading touchless mobile access technology and support for DESFire EV3 credentials from any credential supplier.
100% Plug and Play Design
The SABRE MODULE is a compact, plug-in upgrade that requires no re-wiring, no electrical license, and takes less than one-minute to install.
Support for Touchless Mobile Access
Transform doors, elevators, parking garages, and more for seamless access using Safetrust mobile credentials, eliminating community touch-points and creating a safer workplace.
Support for DESFire EV3 Security
Migrate from Prox and iCLASS credentials to DESFire EV3. Purchase secure credentials from any card vendor, lower your credential cost and open up form factors not supported by HID.
Support for Contact Tracing
Obtain proximity records for mobile devices in your workplace to find close contacts and potentially contain outbreaks before they escalate.
Seamless authentication to your premises and resources
The SABRE MODULE's compact, plug-and-play design brings touchless access to a variety of access points.
SABRE MODULE Explainer Video
See How Easy it Really is
Easy to install. Reliable performance. OTA Remote Management. Safetrust's SABRE MODULE is trusted to deliver superior access in any environment.
Uncompromising Security & Innovation
Discover the benefits of the fastest and most affordable mobile upgrade for legacy readers.
The SABRE MODULE offers a seamless transition from insecure prox or iCLASS® cards to DESFire within seconds.
Independently Verified: Don't be locked into a single closed ecosystem with limited sourcing options. Each SABRE MODULE contains an independently-certified Common Criteria EAL 6+ embedded secure element. Customers can manage their DESFire EV3 ecosystem, distribute new encryption keys securely over WiFi, and purchase their credentials from any vendor.
Future-proof: The SABRE MODULE offers multi-vendor DESFire credential support and is future-proof to incorporate future credential types as they evolve.
The SABRE MODULE offers a touchless authentication solution that instills confidence in employees, tenants, and visitors.
Reduce Community Touchpoints: Enjoy seamless access to turnstiles, doors, elevators, and more from a configurable distance, without ever needing to take your phone out of your pocket.
Instant Mobile Credentialing: Instantly issue a secure mobile credential with the click of a button, eliminating the need for face-to-face onboarding and handling of cards.
OTA Visitor Pass: Send guests their visitor pass directly to their mobile device so there is no need for badge handling upon arrival and guests can use the device they already have. Set credential rules in real time to ensure your visitors are only accessing the permitted areas at the permitted times.
The SABRE MODULE upgrades your existing HID iCLASS SE and multiCLASS SE readers for contact tracing within seconds.
Proximity Monitoring: Obtain proximity records for mobile devices in your workplace to find close contacts and potentially contain outbreaks before they escalate.
Control Spaces Remotely: Create a safe, hygienic workplace that instills confidence in employees, tenants, and visitors by limiting access to specific areas when too many people are in one space.
Ingress and Egress Traffic: Know who enters and exits your organization even if they do not badge in or out. The SABRE MODULE detects nearby devices via Bluetooth and funnels these events to your nominated third-party analytics tool.
Upgrade in 30 seconds, without any re-wiring
Safetrust's SABRE MODULE makes it easy to strengthen enterprise security.
01
Remove reader from wall bracket
Remove the mounting screw and pull the reader in an 'out and upward' motion to remove it from the wall mount bracket.
02
Plug in the SABRE MODULE
Position the SABRE MODULE onto the reader's connector and press firmly to make a solid connection. (Note that the reader's connector is below the wiring — pictured above as a terminal strip but the wiring may alternatively be pigtail.)
03
Ready to go!
Once a firm connection is made between the MODULE and the connector, the MODULE will receive power and will be operational within 5 seconds.
FEATURED CONTENT
Supercharge your readers
Try the SABRE MODULE today!
Get an evaluation kit or see our latest promotion for new orders at the link below.
Learn More
The SABRE MODULE was independently developed to upgrade HID® iCLASS SE® and multiCLASS SE® Readers with touchless access, contract tracing and support for DESFire EV2 credentials. HID®, iCLASS SE®, iCLASS®, SEOS®, and multiCLASS SE® are trademarks of HID Global Corporation/ASSA ABLOY AB. Neither that company nor its affiliates have manufactured or endorsed this product and have no association to Safetrust Inc.