Article originally posted via asmag.com (Source: William Pao)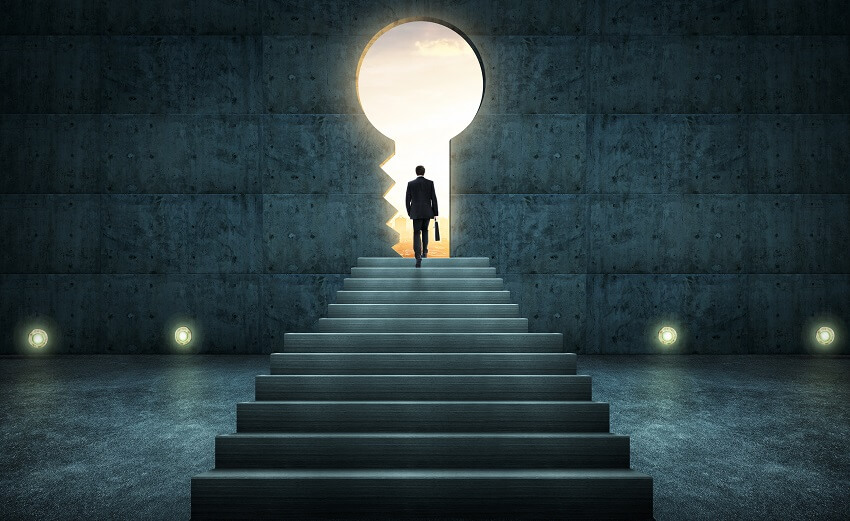 Access control has to do with allowing people coming in and out of a building for security purposes. But in the post-pandemic world, electronic access control systems are charged with more tasks, including disease prevention and control. Below we identify key 2021 access control technology trends, which we believe will continue to be influenced by the pandemic.
Building occupancy and space control
In the age of smart buildings, occupancy- and space control-related analytics and solutions are already popular among end users as they look at how their staff and employees use their space. According to a Memoori report, the occupancy analytics market is estimated to reach US$5.73 billion by 2024, growing at a CAGR of 21.5 percent. Yet post-pandemic, the occupancy and space control features of access control technology will only see their growth accelerate, as users rely on analytics for capacity monitoring and social distancing purposes. "Artificial intelligence and machine learning (AI/ML) technologies will provide opportunities for access control data to become 'smarter' and support people flow and space utilization needs of building owners," said Vince Wenos, SVP and CTO of Allegion.

"The desire for healthy buildings and work environments, plus social distancing requirements to smooth a return-to-work post COVID, has opened up pent-up demand for more sophisticated occupancy management and space control. This will play in a key part in preventing the spread of communicable illnesses. We need, and are responding to the need, to provide better control and management of occupancy in our built environment, to reduce the risk of spreading illnesses such as COVID-19," said John Davies, MD of TDSi.

Another reason to rely on such analytics is to further space consolidation. Amid COVID, a lot of companies are seeing their workspaces empty even though they're still paying for them. Using analytics will allow enterprises to better decide which parts of a building to cut, lease or close.
Increased blurring between access control, BMS and VMS
Demand for a well-integrated physical access control system is set to continue in the near term. This is not just simply integration with other security systems for example video surveillance and intrusion, but rather complex access control technology integration with building management systems (BMS), visitor management systems (VMS) and other enterprise resource systems to help the end user achieve further contactless-ness and automation – things that will be needed more than ever, post-pandemic.

"Many companies are moving toward integrated systems to streamline workflow processes, conserve resource efforts and eliminate manual data entry errors," said Lynn Wood, Product Portfolio Manager at Vanderbilt. "Some facilities took it a step further with integration of their access control system to building automation systems that would kickstart air filtration systems or HVAC heating/cooling when the facility is accessed, thus advancing the goals of the facility toward true automation and control."

"Access control systems … are the perfect core to integrate visitor management, building automation, employee productivity, customer engagement and other systems. For visitor management, visitors are always visiting somebody in the organization; so, the person in the organization already exists in the access control system, its easy and natural to integrate their visitors' experience with access control. Same for building automation; most of what a building's automation system does is create the comfortable, convenient, safe environment for people. The access control system knows who the people are, where they are likely to be, when they're likely to be there, and where and when they actually are (or are not) there," said Steve Humphreys, CEO of Identiv.

In fact, according to Wenos, the distinction between these different systems will become blurred going forward. "Instead, the industry will focus on people flow and people management – of which access control, visitor management and even building automation will be logical features of the overall system and solution. The focus will need to be around people and personas (use cases) rather than simply fitting technology into the traditional boundaries implied by access control, visitor management and so on. Winners in the space will blur these boundaries and bring seamless solutions through cloud integrations," he said.
Compliance, compliance, compliance
Access control technology and solutions will now be designed and built to meet users' needs for compliance, which will dominate in the post-pandemic era. For example, contact tracing is now advised by regulatory agencies, and visitor management systems now have contact tracing features built into them – if a visitor is later determined to have been infected, all people he came in contact with can be retrieved and asked to take precautionary measures, for example self-quarantining.

A growing focus on mobility and mobile access control
Mobile credentialing, whereby the user uses their mobile device to open doors, has become a more trendy access control technology. A recent survey by HID Global reports the adoption of mobile access has continued to rise, with 25 percent of organizations having them fully or partially deployed. Indeed, with keycards being easily stolen, lost, and more costly to make, it makes sense to use the mobile device, especially in entities such as offices and large campuses where it's costly to produce and issue cards en masse. "The use of mobile credentials will continue to expand within both traditional and new access control solutions; in terms of market segments, higher education and commercial facilities will see significant increases in the adoption of mobile credentials," Wenos said.

And let's not forget COVID-19, which has driven up demand for contactless access control, and mobile access control suits that trend. "The focus on mobility is not going anywhere for a while, so we will continue to see more widespread use of mobile credentials to promote touchless/frictionless access control solutions," Wood said. "Pre-COVID, the standard practice for outside contractors and visitors to many businesses routed visitors to a reception desk or to request access in person. As the pandemic spread and organizations looked to limit the risk to employees (as well as address the shift toward more remote work), the feasibility of mobile credentials took hold."
Contactless biometrics
Speaking of contactless, while fingerprint is still the primary biometric for access control, it has certain drawbacks, for example sanitary concerns and slower throughput. Now, with COVID-19 for which the act touching has been cited as a medium of transmission, contactless biometrics are set to become stronger access control technology trends. "The need to support touchless experiences for access to, and movement through, physical spaces will cause the industry to adopt existing and new technologies and solutions. Seamless, touchless and frictionless are the primary descriptions of what experiences the market will demand going forward," Wenos said.

"Needless to say, contactless access control has been one of the buzzwords in 2020. We have already witnessed plethora of new vendors to enter this space for the simple reason of supply and demand. Suprema has not joined this bandwagon but have always believed in contactless access control, specifically facial recognition," said Hanchul Kim, VP of Suprema. "We have pioneered and innovated in this space for over 10 years and have seen the market steadily grow due to increased accuracy and comfort in which users are identified. We don't believe contactless access control market was created all of a sudden but 'acceptance' of the technology has pulled in significantly in time due to the pandemic."
As example, Kim cites how a contactless visitor management experience can require no human-to-human interaction throughout the whole process of requesting a visit, self-check-in and entry. "This sequence is, in fact, very similar to what is required in a 'contactless' access control system where everything is preferably done online. This could mean enrolling users or visitors online (for example face enrollment) and getting approval through their mobile devices then later getting access through the main entrance or different areas in the facilities. So, with these similarities, the integration of these systems will become more necessary for the non-human interaction," he said.

Further, facial recognition can now integrate with different technologies to more effectively combat COVID. "We're even seeing facial recognition readers that leverage intelligence that can identify whether a person is wearing a mask or sensing technology that can identify someone who has an elevated temperature and restrict access until they can receive more screening. The demand in these areas will grow into 2021 as the pandemic continues to be a big concern around the globe," Wood said.
Cloud-based access control demand to continue, post-pandemic
Like video surveillance-as-a-service, access control-as-a-service (ACaaS) has already been on the rise. COVID-19 is expected to even further accelerate this access control technology trend due to its various benefits. First, as opposed to on-premises electronic access control systems which require servers, wiring and license fees, ACaaS requires less upfront cost and instead charges a subscription fee based on the user needs – this can be appealing to end user entities that are financially constrained in the wake of COVID. Then, given data is hosted centrally in the cloud instead of in on-premises devices, there's less need to schedule onsite repairs and maintenance which require onsite visits and may go against pandemic control guidelines. Finally, with cloud, certain operations such as credential issuance and revocation can be done remotely instead of onsite, and this is constructive towards social distancing guidelines.
Cybersecurity and identity management
Cybersecurity also emerges as a key access control technology trend that will continue in 2021. Two factors are driving this trend. First, devices in electronic access control systems are becoming more and more online and are more vulnerable to breaches. Secondly, now that COVID-19 has sent employees across the globe teleworking, securely accessing enterprise resources remotely has become more important than ever. This topic will be discussed further in separate reports coming up.
---