In the past, aside from high-security environments, access control has remained isolated and offline. A Physical Access Control System's (PACS) main function was to prevent unauthorized people from entering a physical space, achieved by layering levels of inconvenience and barriers. Security, at all costs, has been the sole focus. 
In the wake of the pandemic, we've seen digital transformations take place across the access control industry at a rapid speed. Now it's not just about security, it's also about safety (staying healthy) and convenience. You only need to look at the number of touchless/contactless/frictionless/hands-free solutions that have come out of the woodwork since COVID-19 to see just how quickly traditional access control has been turned on its head in the last two years.
So with all these advancements and changes around the way end users gain access, it's only fair that we see the same level of sophistication in the way we manage that access. If users can be issued credentials at the click of a button and authenticate themselves with the wave of their smartphone, why should we need security guards to walk around checking door readers or technicians to run manual diagnostics in the field?
It is no longer okay for access control systems to be isolated and just a utility. Now more than ever when considering new hardware you can (and should) expect far more than locking and unlocking. You should expect smart, intelligent functionality that not only ticks all the boxes for an end user, but for a building/security manager too. 
Enter: The connected reader.
What is a connected reader?
A connected reader is a reader operating as a fully manageable IoT device. Packed with intelligent features, such as mesh network communication, a connected reader communicates online via secure Wi-Fi to other devices.
For example: Safetrust's Connected Reader solutions enable bi-directional communication between the reader and Safetrust's encrypted cloud service, Credential Manager.
What can it do?
What can a connected reader do that a non-connected reader cannot? Safetrust Connected Readers currently include the following capabilities:
Current Connected Capabilities:
Device Configuration Management

Features are configured in the cloud and sent over-the-air (OTA) using Wi-Fi connection
The need for an onsite technician drops significantly when using a connected reader

Remote Firmware Updates

Readers can now receive the benefits of modern technology
Continuous release of new features and performance enhancements is now a possibility
Eliminate the costs and time associated with manually updating each reader
Device/System Health

Move beyond yesterday's troubleshooting, is it on or off?
What do our tools say? Is it power, OSDP coms, the cable or the panel? Plus many more.
System Reports

Look at trends and see how your PACs is running real time and over the past 30 days
Currently there are over 17 events available to monitor, from OSDP communications to BLE status.
Future Connected Capabilities:
Direction Detection (BLE based devices)

Detect Entry and Exit
Heat maps
Space utilization reports
Contact (health) reports

Detect presence of other BLE devices such as:

Tiles
Air Tags
BLE based asset tracking tags
Active (powered) BLE access cards

Support for on-site MQTT servers
Iot Sensor Networks (uses BLE to transport data to/from Sensors that can't connect to Wi-Fi)
Edge based policy decisions (Wi-Fi connected policy engine support)
Comparing Communications:
So what's the real difference between Safetrust Connected and other forms of communication such as Wiegand and OSDP? Let's take a look.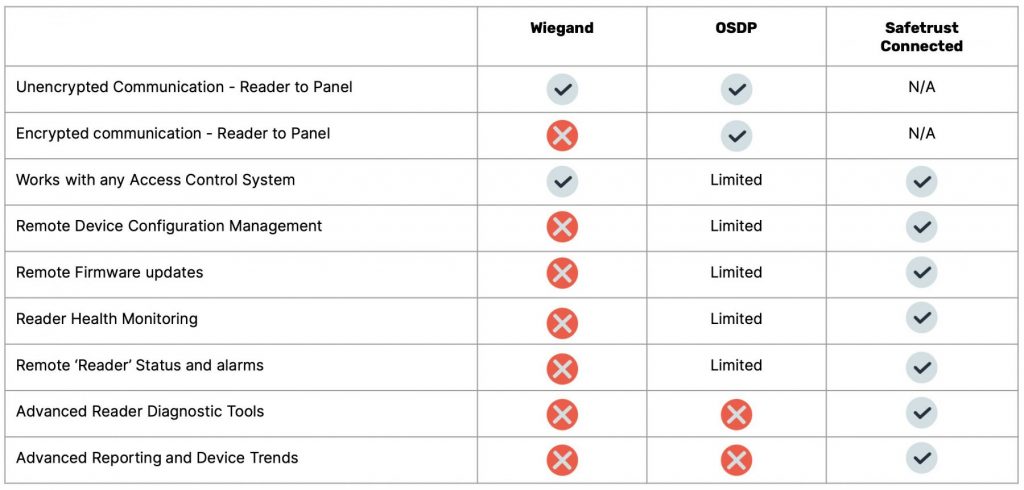 Value Proposition: Cost Benefits of a Connected Reader
Safetrust Connected
Reduce the expense of techs onsite
Firmware updates and feature adds
Data Reports
Health Monitoring
OSDP Status Reports
Advanced remote diagnostic tech tools
The larger the system, the more important being connected becomes
Non Connected
Any changes, updates or service issues requires 1-2 techs onsite
Average 30 minute per reader to update via BLE
If there is no BLE, a technician must use Program cards to modify features and functionality.
No predictive failure capabilities
Essentially prevents the industry from benefiting from feature and function improvements
Tech Tools Available:
Central Monitoring and Configuration
Real time insight into activity of cardholders/sensors
Change configuration to one or many readers in one click
Roll encryption keys for secure Wi-Fi
Reporting Capabilities
View current and/or historical data for all readers/sensors
Identify trends, readers going offline
OSDP Transaction Transit Monitoring
Identify panels, readers beginning to fail and react proactively
Know operational performance
Combining OSDP with MQTT provides unique insights
MQTT – Remote Support and OSDP Diagnosis
OSDP statistics, card read times
Communications errors
Helps to understand if OSDP is polling correctly
Diagnose cable/signal issues
Summary:
Throughout the COVID 19 crisis and beyond, it has become evident through working from home and having less physical resources out in the field that having real-time and remote access to readers is a must-have, not a nice-to-have. In summary, here are some of the key benefits of a Safetrust Connected Reader:
A Connected Reader provides investment protection for future features
OTA Configuration allows you to upgrade and change your system at your pace and often without the need for an on-site visit
Superior support for OSDP implementations
Secure Key Management Flexibility
Powerful System Reports
Save money and time